"On coming to the house, they saw the child with his mother Mary, and they bowed down and worshiped him. Then they opened their treasures and presented him with gifts of gold, frankincense and myrrh." Matthew 2:11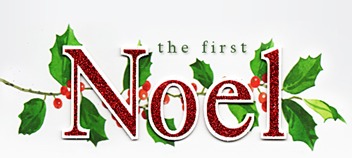 ​By Shannon Pederson

"Noel, noel! Noel, noel! Born is the King of Israel!"

As you enjoy this chorus during the Christmas season, you will be listening to one of the oldest of all Christmas carols. Although no Christmas season would be complete without the melodious singing of this tuneful carol, very little is known about its origin.
It is thought that 'The First Noel' had its rise in France during the fifteenth century. History hasn't preserved the record of how the music came to be written, but some historians think that the traditional melody originated in France as early as the 1200s. By the 1800s, the melody had become popular in England, and people had added some simple words. Englishmen William B. Sandys and Davies Gilbert collaborated to write additional words and published it in 1823.

Noel is a French word originating from Latin meaning "birthday." The song is thought to have been brought across the channel to England by the wandering troubadours. The carol became a great favorite for Christmas Eve. This was when entire villages gathered for singing and celebrating the bringing in of the Yule log. English Christmas traditions called for the yule log to burn as a sign of goodwill through all 12 days if Christmas and the goodwill was shared through song. At this time carols were thought of as popular religious songs meant to be sung outside the church while hymns were sung within.

"The First Noel" portrays, in vivid narrative style, the story of the birth of Christ. The song begins by mentioning the story that the Bible records in Luke 2:8-14 of angels announcing Jesus Christ's birth to shepherds in the Bethlehem area during the first Christmas. All six stanzas are needed to complete the entire event when the hymn is sung. The sixth stanza urges us to join together to sing praises to God for the marvels of His creation and for the salvation provided through Christ's shed blood. The repetition of the joyous "noel" in the chorus is equivalent to our singing out "happy birthday" to someone.

It is interesting to observe that the "King of Israel" was first announced to "certain poor shepherds" only, but in the final stanza the phrases "let us all" and "mankind hath brought" remind us that Christ came to redeem the whole world.

Fun Fact:
'The First Noel' is sometimes titled 'The First Nowell.' Both the French word noel and the English word nowell mean "nativity" or "birth" and refer to the birth of Jesus Christ on the first Christmas.
​

"And there were shepherds living out in the fields nearby, keeping watch over their flocks at night. An angel of the Lord appeared to them, and the glory of the Lord shone around them, and they were terrified. But the angel said to them, 'Do not be afraid. I bring you good news that will cause great joy for all the people. Today in the town of David a Savior has been born to you; he is the Messiah, the Lord. This will be a sign to you: You will find a baby wrapped in cloths and lying in a manger.' Suddenly a great company of the heavenly host appeared with the angel, praising God and saying, 'Glory to God in the highest heaven, and on earth peace to those on whom his favor rests.'" Luke 2:8-14