​"and in the morning you will see the glory of the Lord…" Exodus 16:7

Morning Has Broken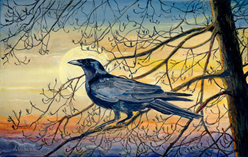 ​By Shannon Pederson
Have you noticed the spiritual feeling you experience in our sanctuary on a sunny, Sunday morning? The rays of sun shining through our beautiful stained, glass windows create a magnificent sense of holiness. There is nothing more divine than singing a hymn at a morning service to remind us that each day is a gift of God.

One of those hymns is "Morning Has Broken," an old, yet new, song. Old based on when it was written, but new based on when it became well known. This hymn originated as an instrumental song written in 1888 by Lachlan MacBean, a Scotsman who wrote a number of Gaelic tunes. In 1931, the English songwriter and author, Eleanor Farjeon, was asked to write a song of thanksgiving that was to be set to MacBean's tune.
​
Farjeon wrote "Morning Has Broken" as a way of expressing the creation stories in Genesis 1 and John 1. Her goal was for each stanza to represent areas of praise she felt for the Lord. Stanza 1 was to praise God for the morning. Stanza 2 praised the sweetness of God's goodness. Stanza 3 gave praise for the sunshine.
Morning has broken like the first morning;
Blackbird has spoken like the first bird.
Praise for the singing! Praise for the morning!
Praise for them springing fresh from the Word!

Sweet the rain's new fall sunlit from heaven;
Like the first dewfall on the first grass.
Praise for the sweetness of the wet garden;
Sprung in completeness where His feet pass.

Mine is the sunlight! Mine is the morning
Born of the one light Eden saw play!
Praise with elation, praise every morning;
God's recreation of the new day!
​The song didn't appear in a hymnal in the United States until 1955. It remained unknown until 1971 when a British folk and rock singer and songwriter included it on his hit triple platinum album, "Teaser and the Firecats." Surprisingly, the artist was Cat Stevens, a man who soon after converted to Islam where he became known as Yusuf Islam. A Christian hymn doesn't seem to be a likely selection for his album. This is a rare, though not unique, example of a Christian hymn receiving acclaim through the popular media.
​
At first glance, "Morning Has Broken" may seem naïve in our current polluted environment of waning fresh water supplies, greenhouse gases, and smog. Unlike the earlier days of the 20th century when Farjeon penned these lyrics, we now know that the earth's resources are limited and its beauty is ours to preserve and foster. Yet, we all dream for a day when the beauty of the earth may be restored and that the rising of the morning sun will be a symbol of hope.

This hymn has also been used as a funeral hymn to remind those left behind that for the deceased, a new morning has begun. It is good to be reminded of God's goodness and blessing each time morning has broken. And, no matter where I am, when I hear the song, I think about the windows in the sanctuary of the First Presbyterian Church of Slayton.
​"Because of the Lord's great love, we are not consumed, for his compassions never fail. They are new every morning; great is your faithfulness." Lamentations 3:22-23