"For where two or three gather in my name, there am I with them." Matthew 18:20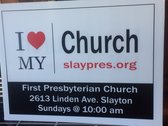 By Shannon Pederson
Usually when you see a sign in a yard, it's because the house is for sale or there's a rummage sale going on. Well, we're changing that up. We'll be offering you signs to tell people we love our church. They will be a heartfelt message of welcome, spreading from yard to yard.

Churches that use these signs report positive and encouraging results. First, it shows that members love and support their church enough to put the sign in their yard. Second, it helps draw people to our church.

Our goal should be to make sure people driving through the various streets in Slayton and highways into town see the sign many times. The repetition creates a message that the church has a positive and respected presence in the local community.

This small piece of lawn advertising can show that each of us has taken a small step forward in our role as evangelists. By simply displaying a corrugated plastic sign on our personal property, we are inviting people to come check us out. Eye-catching and easy to use, yard signs are a great way for each of us to promote our church, let people know where we are, and give the time of our services. Deciding to put a sign in your yard for public display does make a statement, and contributes to a renewed sense of personal ownership of the church.

People seeing the signs will recognize that the First Presbyterian Church is a place where members care. The effort is simple enough, but the gain can be tremendous.
​
As soon as they arrive, we'll distribute them. Thank you in advance for participating.
"Consequently, faith comes from hearing the message, and the message is heard through the word about Christ." Romans 10:17 ​