"Jesus replied, 'Very truly I tell you, no one can see the kingdom of God unless they are born again,'" John 3:3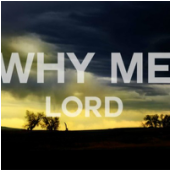 by Shannon Pederson

Dear God, I know that I'm not perfect, I know sometimes I forget to pray. I know I have questioned my faith, I know sometimes I lose my temper, but thank you for loving me unconditionally and giving me another day to start over again. Amen. A prayer like this one was probably in the mind and heart and on the lips of Kris Kristofferson in 1972 when he wrote the lyrics and music for the song 'Why Me Lord.'

Kristofferson had become the toast of Nashville in the early 1970's with the massive success of compositions including, 'For the Good Times, 'Me and Bobby McGee,' 'Sunday Morning Coming Down,' 'Help Me Make it Through the Night' and 'Loving Her is Easier Than Anything I'll Every Do Again.' Yet, he was at an emotionally low period in his life. After attending a religious service, he wrote 'Why Me Lord.'

Kristofferson's gruff vocal styling was "perfect" for the song, since he sounded like a man who had lived a lot but was now humbling himself before God. Kristofferson said he went with friends to the church service where he was moved by Larry Gatlin's song 'Help Me (Lord)'. He said that he had never thought of needing help, but when the pastor asked the congregation, "Is anybody feeling lost?," up went his hand.

"Trust in the Lord with all your heart and lean not on your own understanding; in all your ways submit to him, and he will make your paths straight." Proverbs 3:5-6

The Pastor then asked, "If you are ready to accept Christ kneel down there." Kristofferson knelt down with the feeling of carrying a big load of guilt and shame. He felt like he was out of control crying for it to be released. "It really shook me up." Kristofferson later said, "It was a very personal thing I was going through at the time. I had some kind of experience that I can't even explain."

'Why Me' was Kristofferson's lone major country hit as a solo recording artist, reaching No. 1 on the charts in July 1973. The song had one of the longer runs (19 weeks) in the top 40 and a lengthy run on the Hot 100 list. It was certified gold for sales of one million units. And most importantly, it brought Jesus Christ back into the heart and soul of Kristofferson.​

​Why Me Lord

Why me Lord, what have I ever done
To deserve even one
Of the pleasures I've known.
Tell me Lord, what did I ever do
That was worth loving you
Or the kindness you've shown.

Lord help me Jesus, I've wasted it so
Help me Jesus I know what I am.
Now that I know that I've need you so
Help me Jesus, my soul's in your hand.

Tell me Lord, if you think there's a way
I can try to repay
All I've taken from you.
Maybe Lord, I can show someone else
What I've been through myself
On my way back to you.

​ Lord help me Jesus, I've wasted it so
Help me Jesus I know what I am.
Now that I know that I've need you so
Help me Jesus, my soul's in your hand.
​
​"Yet to all who did receive him, to those who believed in his name, he gave the right to become children of God.
John 1:12