​"For the word of the LORD is right and true; he is faithful in all he does. The LORD loves righteousness and justice; the earth is full of his unfailing love." Psalm 33:4-5
In God We Trust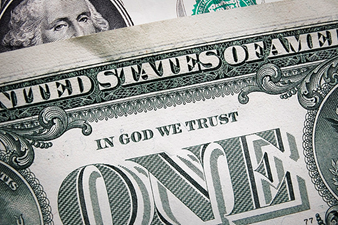 By Shannon Pederson
Sixty years ago this month, the motto IN GOD WE TRUST began appearing on all U.S. paper currency.
The motto had been used on coins for quite some time, first appearing on a two-cent coin in 1864.
The phrase appears to have originated in
"The Star Spangled Banner"
written by Francis Scott Key during the War of 1812.
The fourth stanza includes the phrase,
"And this be our motto: In God is our Trust."
The reason for the addition of the motto was the increased religious sentiment existing in our country during the Civil War.
Due to pressure from citizens, Secretary of the Treasury, Salmon Chase, instructed the Director of the Mint at Philadelphia, use the motto on coins, in a letter dated November 20, 1861:
Dear Sir: No nation can be strong except in the strength of God, or safe except in His defense. The trust of our people in God should be declared on our national coins.
There was a delay of three years in implementing the changes to U. S. coins because additional legislation had to be enacted by Congress.
The use of IN GOD WE TRUST has not been uninterrupted.
The motto disappeared from the five-cent coin in 1883, and did not reappear until production of the Jefferson nickel began in 1938.
Since 1938, all United States coins bear the inscription.
In response to a general demand throughout the country, Congress made it mandatory on all coins.
The phrase owes its debut on our paper currency to the Cold War.
Representative Charles Bennett of Florida campaigned hard for the words, seeing them as a bulwark against what he called "materialistic Communism."
During the
Cold War
era, the government of the United States sought to distinguish itself from the Soviet Union, which promoted
atheism
and anti-religious legislation.
The 84th Congress passed a joint resolution "declaring IN GOD WE TRUST as the national motto of the United States".
The same day the law was signed by President Eisenhower, it was printed on currency as well as coins.
As of 2017, eighteen states offer an IN GOD WE TRUST specialty license plate.
Occasionally challenged on separation of church and state grounds, these official invocations of God have been upheld by the United States Supreme Court.
And, they've been upheld in popular culture as well, as in the 1994 remake of "Miracle on 34th Street," in which a judge finds guidance thanks to the U.S. Treasury's faith in the existence of God:
"Then the State of New York -- by a similar demonstration of the collective faith of its people -- can accept and acknowledge that Santa Claus does exist."
​Opinions may differ as to whether those two beliefs are, in fact, equivalent.
But after 153 years for coins and 60 years for paper currency, there's no disputing that America's professed faith in God is ... on the money.
"If anyone speaks, they should do so as one who speaks the very words of God. If anyone serves, they should do so with the strength God provides, so that in all things God may be praised through Jesus Christ. To him be the glory and the power for ever and ever. Amen."
1 Peter 4:11