​"You are free from the law, but that doesn't mean you are free to do wrong. Live as those who are free to do only God's will at all times." 1 Peter 2:16
How the Pilgrims Got their Name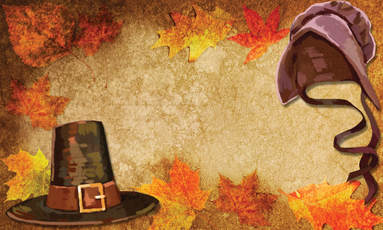 ​by Shannon Pederson

It wasn't until 1840 that the term "Pilgrim" (a traveler who is on a journey to a holy place) came to refer to the early Mayflower settlers. These courageous people originated with the members of a Separatist congregation from Nottinghamshire, England. They suffered difficult persecution in England because they dissented from the State Church of England.

The church members were hunted and persecuted, some were taken and locked up in prison; others had their houses watched night and day, and a few lost their means of livelihood. In spite of all these hardships, they were determined to move somewhere where they could practice freedom of religion for all men.

The congregation moved to Holland in 1607 where religious freedom was greater. Some who were in prison, didn't get there for another year. They settled in Amsterdam for a year, but then moved to Leiden, Holland, where they lived for a dozen years. But life was difficult for these expatriates. As foreigners they did not have a chance at the best jobs, and struggled to maintain even a low standard of living. Times were tough.

In 1620, many from the congregation decided to emigrate to America, to the New World. But the Plymouth colonists still weren't called Pilgrims; not until 220 years after arriving in the New World would this name be given. At that point someone resurrected the phrase of one of the Mayflower passengers, William Bradford, describing the people that had left Leiden to travel aboard the Mayflower to the New World. They left Leiden, he said, "that goodly and pleasant city which had been their resting place for nearly 12 years; but they knew they were pilgrims, and looked not much on those things, but lifted up their eyes to the heavens, their dearest, heavenly country, and quieted their spirits."
​
Since the 1840s the Mayflower settlers have been referred to as the Pilgrims, echoing the verse from the Bible that Bradford had in mind:
"All these people were still living by faith when they died. They did not receive the things promised; they only saw them and welcomed them from a distance, admitting that they were foreigners and strangers on earth. People who say such things show that they are looking for a country of their own. If they had been thinking of the country they had left, they would have had opportunity to return. Instead, they were longing for a better country—a heavenly one. Therefore, God is not ashamed to be called their God, for he has prepared a city for them." Hebrews 11:13-16
​The first amendment of the U. S. Constitution says that "Congress shall make no law respecting an establishment of religion, or prohibiting the free exercise thereof." Ever since the Bill of Rights was ratified, Americans have enjoyed religious freedom. Our Constitution guarantees the free observance of religion and prevents the government from ever establishing a state church. Thomas Jefferson called religious freedom "the most inalienable and sacred of all human rights."
​
The "Pilgrims" influenced our constitution and we have been given the right to worship as we choose. What a wonderful gift and freedom from the people of the Mayflower to be thankful for! And, the second gift from the Pilgrims is the celebration of Thanksgiving each fall as a way of sharing food and faith with family and friends and showing how thankful we are to God for all we have.